LET'S-A-GO!
Mario Kart is the game that has destroyed relationships and forged a generation of bad drivers - and this is AWESOME. Now granted, we didn't learn to text and drive from the Princess, but if she had a phone, you know what she'd be doing with it. She'd be like: "OMG, Bowser tailg8ting. G2G." That would be the last text before she got run off the road. Or hit a poor innocent bystander. Or got kidnapped. Again.
Time to add the magic of Mario Kart to your jewelry box. Enjoy watching Mario, Peach, and competitors as they ride the Rainbow Road around your wrist with this bracelet. The space background twinkles with 15 LED lights, which you can turn on and off at will. Just make sure you keep a wary eye out for banana peels and turtle shells while wearing this.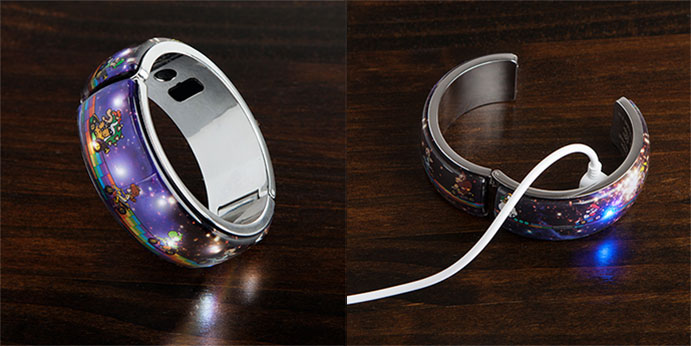 Product Specifications
Mario Kart LED Twinkling Bracelet
Officially-licensed Nintendo merchandise
A ThinkGeek creation & exclusive
Bangle features Mario, Peach, and competitors on the Rainbow Road
15 LED lights twinkle when turned on
Magnetic hinge allows for maximum wrist of 17.7cm (no really. we measured.)
Materials: Stainless steel inside the bangle
On/off button preserves battery life
Batteries: Rechargeable (one charge lasts c. 8 hours)
Charging takes c. 1 hour
Includes USB bracelet with rechargeable battery and proprietary USB charging cable with breakaway magnetic connector
Dimensions: 2.5cm thick bangle on 7cm x 7.6cm oval; 100cm charging cable
Weight: 90grams
Includes bracelet and proprietary USB charging cable
Note: We recommend you plug this into a wall charger. If you plug it into your computer, you may receive an error message. Remove all other USB devices and retry.